Halloween trees have been popular for many years and I suppose it is because people like having a tree with lights and ornaments as a part of their home décor. Normally the trees are shaped and look like a Christmas tree however instead of green branches the tree is black or dark purple and I have seen a few that were orange color.
A Halloween tree is fun to decorate and you can use it to accent your home décor or set it up on your front porch. It is a good way to let all the neighborhood children know that you have candy for them when they go out to trick or treat.
Even if you are not someone who goes all out when decorating for Halloween know that a tree would be all that you would need. You could buy one at Hobby Lobby or Amazon for your tabletop or setup a Halloween tree in a dark corner in your foyer or living space.
Here is a tree that is perfect for a corner. It is decorated with plastic skulls and pumpkins.
As for lights, it is best to buy purple or orange lights for a black Halloween tree. If you do another color tree such as an orange one then I would recommend a strand of black lights. Thus keeping with the traditional colors of Halloween; orange, black and purple.
Your decorations should be spooky and you can shop for small plastic skeletons and pumpkins at a hobby store. Use crazy glue to attach a hook to hang them on your tree. Shop for ceramic ornaments at Zazzle.com Buy the ornaments as shown or customize them by adding a photograph of your children in their Halloween costumes from previous years. Buy the keepsake ornaments for your tree or give them as a gift.
Here are a few ornaments that I found at Zazzle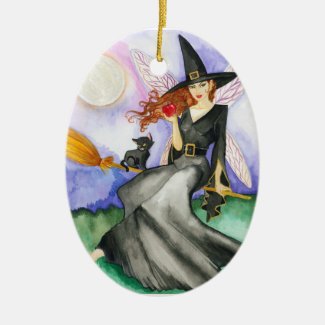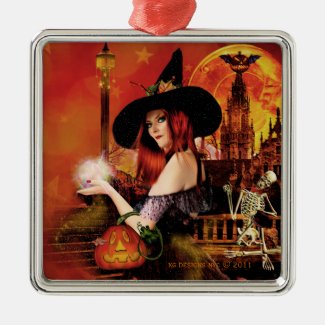 Shop for Halloween grosgrain ribbon and drape it onto your tree. Complete your tree by adding a black witch add to the top and a colorful and magical looking tree skirt.
I put together a collection of Zazzle ornaments and tree skirts that I found. All were created by independent artists and are unique designs. If you like what you see then click on the hyperlinked words under the image and this will take you to the designer's store where you can view a larger product image, learn more about the product and buy.